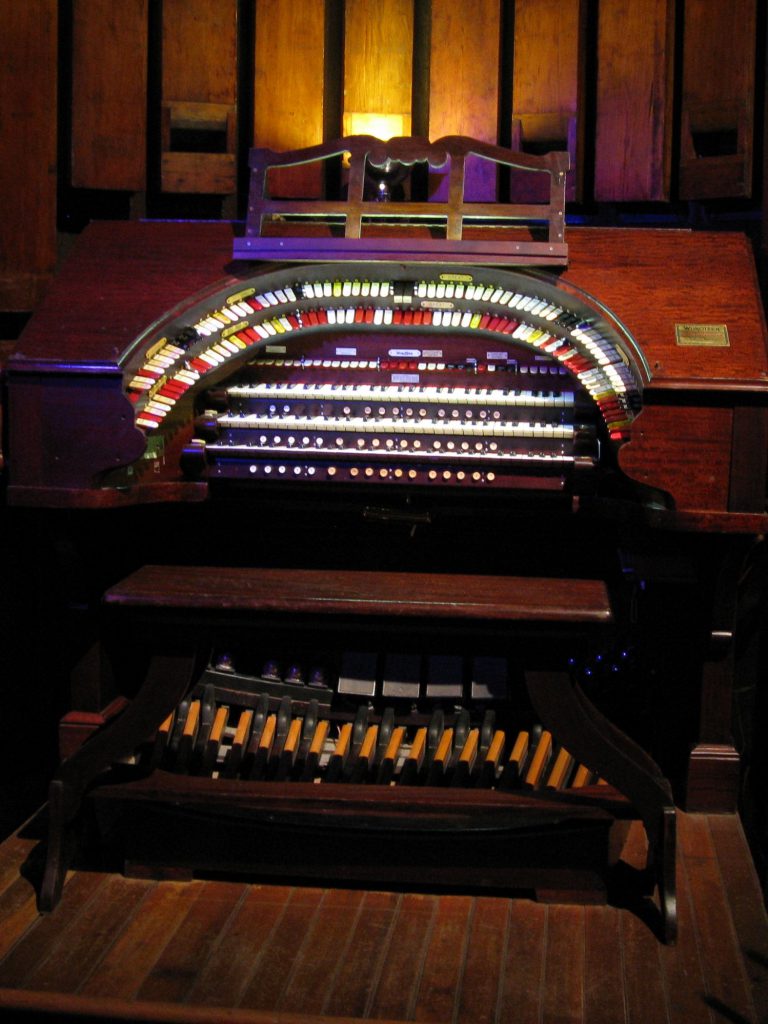 This 1924 Wurlitzer Pipe Organ once played in the Rivoli Theater in New York City. The nucleus of the organ was Wurlitzer Opus 839, 15 rank Style 260 from the Rivoli Theatre in New York City. The console, seven ranks of pipes and most of the chests and regulators are from there. That organ was not complete when SLTOS received it in trade for the Kimball console and some pipe work from the St. Louis Theatre. Some of the pipe work and chests we used were from Gus Brummer and the Ruggeri restaurant organ that Stan Kann played in the '60's. We used a Kimball Pedal Bourdon and chest and the chimes from the St. Louis Theatre. We had to purchase a blower (Spencer), VDO and celeste (Gottfried violins) , xylophone (Robert Morton), chrysoglott (Wurlitzer) and a bass drum and made a post horn from a donated oboe. Also donated was the Wicks small diapason. We used a Kilgen Open Diapason instead of the Wurlitzer Diaphonic Diapason. We replaced the Peterson electrical relay that had been purchased in the '80's for the Granada with a more modern PC based relay, a Uniflex 2000, that could record organists playing and then play it back like a MIDI.
In 2005 the late Steve Crowe contacted the City Museum owner, Bob Cassilly. Mr. Cassilly liked the idea and SLTOS began preparations in a workshop at the museum for installing the organ in a part of the museum that is known as "The Enchanted Caves". After 17 months of designing, moving, cleaning, installing and generally trying to keep from going insane, the organ played from the computer relay in August 2007. The console still had to be completed with new stop tabs and key regulation. The first public performance was on October 26, 2007 for the museum 10th anniversary party with Stan Kann and Ken Iborg playing, but without the percussions and 16 foot pedal pipes being installed in the caves. This was complete in January, 2008, and when SLTOS had their club meeting at the museum the following February all played wonderfully.
Organists come from time to time to play, and the museum staff play the organ from the computer almost on a daily basis. Since 2008 much more work has been done on the organ plus two more ranks have been added bringing the total to 18. As one can see, the Wurlitzer Opus 839 had many changes as we installed it.
The purists can say it is not a Wurlitzer since only a little more than half of the pipe work was made by them. However, it looks, sounds and feels like a Wurlitzer. Thanks to a team of dedicated movers and restorers, its sonorous tunes now form a chorus with the City Museum concerto of excited squeals, peals of laughter, and gasps of amazement.
Rank List
18 Ranks
Main Chamber
Bass Trumpet

English Post Horn

Horn Diapason

Tuba Horn

Brass Saxophone

Tibia

Orchestral Oboe

Krumpet
Unenclosed Caves
Metal Saxophone

Chimes

Chrysoglott

Glockenspiel

Xylophone

Harp/Marimba

Piano
Cymbal

Crash Cymbal

Tap Cymbal

Snare Drum

Bass Drum

Tambourine

Castanets

Fire Bell

Siren

Bird

Wood Block

Train Whistle

Door Bell

Gong

Triangle